The first Nigerian to do the North Pole Marathon tells the BBC how proud she felt to plant her country's flag in the snow at the end of the race.
Tuedon Morgan, 42, said Antarctica, where she has been on two previous trips, was a playground compared to her experience at the North Pole last week:
The North Pole was extremely difficult for me: It was so cold, with temperatures of -41 C, and I noticed that my body was losing a lot of energy – it was like the magnetic field was sucking all my energy out.
The last 4km (2.5 miles) were the hardest for me – I started to see buildings where I knew that there was nothing there.
I didn't have any training for this – I didn't have any snow to train on.
In Qatar, where I live, it's the extreme opposite: I wear T-shirts and shorts to run; in the North Pole you have to wear all these different layers.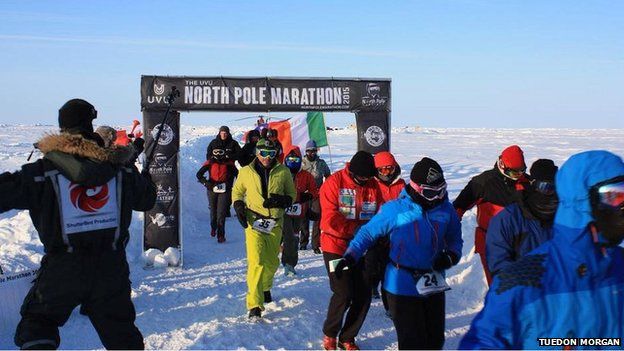 We were 44 competitors from 22 countries and I finished quite late, I was one of the last people to finish. But I compete[d] with myself.
I was just singing and praying and when I got to the bend where I could see where other people had planted their flags, I kept saying to myself: "I have to plant the Nigerian flag there; your country's flag has to be there."
A South African has done the race; I don't think any other Africans have done it, so for me it was awesome to do that for my country, for Nigeria and for Africa as a whole.
As I was leaving, other Nigerians arrived – they had been to the geographical North Pole and they had raised the Nigerian flag there as well.
It was awesome. I would do the North Pole again. Right now, sitting here, I'm thinking: "I want to go back to do it again."
'I love food'
It all started one day in January 2008, when I woke up and looked myself in the mirror and I said: "I need to change my lifestyle."
I would go to bed early and wake up really tired, I weighed 121kg, which is about 266lbs, I was a big girl. CONTINUE TO PAGE 2